Weed Wrangle Jackson 2018
April 7, 2018
|
Recurring Event
(See all)
One event on May 3, 2018 at 12:00am

Weed Wrangle Jackson
April 7, 2018 and May 3, 2018
Mississippi landscapes are encountering growing threats from some non-native plants. Invasive plants introduced in this region decades ago for agricultural or landscaping purposes are now a serious concern for our parks, our public green spaces and our own backyards Along with a warming climate and longer growing seasons, experts warn this city's beautiful native trees, plants and wildlife are losing the fight against these aggressive plants, vines, trees and insects. These non-indigenous plants and insects consume nutrients, disrupt the ecological balance and disfigure the outdoor world where Mississippians hike, bike, have picnics and just enjoy. While some invasive plants are quite beautiful with colorful flowers and pleasing scents, they are still quietly lethal to native species If left unchecked, future generations of native plants might never glimpse the forest floor as alien growth shrouds the sun and takes nutrients away from our native trees and plants.
The Garden Club of Jackson, Weed Wrangle®-Jackson, project was designed to remove an invasive tree species at LeFleur's Bluff State Park in Jackson, MS. Over 100 volunteers worked to remove hundreds of tallow trees which have surrounded Mayes Lake. These trees now obstruct the view and the use of the lake. This project focused on a campground area at the park. Unfortunately there are thousands more trees to remove – those will be tacked at future Weed Wrangle®-Jackson events.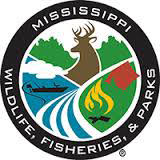 LeFleur's Bluff State Park
LeFleur's Bluff provides a lush green spot in the heart of urban Jackson. In addition to camping, fishing, picnic spots, and nature trails, the 305-acre park features a nine-hole golf course and a driving range. The park is named for Louis LeFleur, a French-Canadian explorer who established a trading post on the banks of the Pearl River in the late 1700s. The city of Jackson was originally known as "LeFleur's Bluff." Today Mississippi's vibrant capital city combines the warmth and charm of its rich cultural heritage with exciting activities and attractions and contemporary lifestyles. Visitors to Jackson discover a diversity of museums, unlimited shopping and dining, and a calendar of events packed with activities to suit every mood.
The Weed Wrangle® started by The Garden Club of Nashville in 2015, expanded to the Knoxville Garden Club, Garden Club of Lookout Mountain, Memphis Garden Club, The Little Garden Club of Memphis, and The Garden Club of Jackson, MS in 2016. All clubs are members of The Garden Club of America and participants in the GCA Partners for Plants program.